Welcome to my new blog, where I will prove that if you can dream it, you can sew it real. I have been sewing since childhood when I used my mother's fabric scraps and made doll clothes and little accessories for my Barbie dolls. This blog will document the sewing adventures of my son and myself. I hope you enjoy it. On to the blog's first entry, the ultra versatile hat pattern, Whitney Sews' Newsboy hat pattern. It's on her youtube page for this video. I will not directly link to her pattern from my blog until I have the okay from her. That is just in case she withdraws the personal use availability for this great tutorial and free pattern. Here is her How-to youtube video:
I made my first one of these a couple years ago, I had watched this video like 15+ times before working up the nerve to try it out of muslin. I was enlarging it because I like a looser hat. Which turned out to be a good thing because the muslin version was a little too snug. Here's an assortment of hats I've made since I started using this fun pattern.
I won't make this a tutorial, you can't improve on this video's instructions at all, so I won't even try. I will show my latest hat though, this one in red vinyl was cut out two years ago, but I was afraid to try to sew it on my mother's Necchi Supernova and it would not have been too enjoyable trying to. I was blown away over the holiday season when I came upon a Vintage Singer 201-2 machine in a shop. I didn't even ask questions or haggle on the $30 price tag they had on it. Just took it and ran. A roller foot with this incredible machine made this project a lot of fun to do with my son working the foot pedal.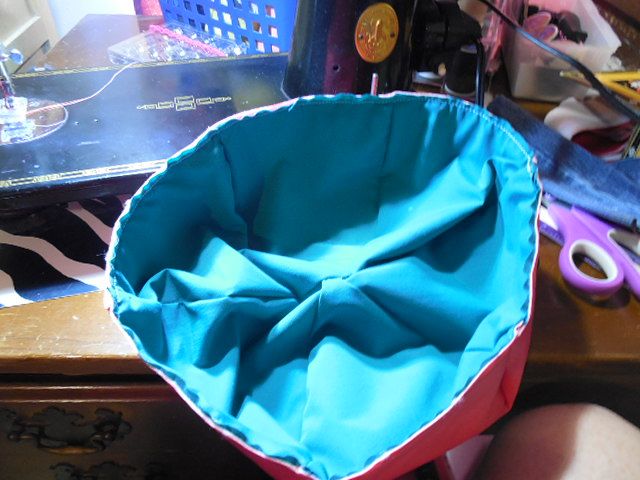 I hope you enjoyed seeing the hats I've made using this free pattern. My son, John, loves his new hat. I will be sharing another interesting free hat pattern soon, a free bucket hat pattern. Thank you for taking time to read over this blog's first entry, and if you have any suggestions for projects you'd like to see my son and I make and share here, please post or email me. Have a great day & sew your dreams to life!