I am sad to say the place in town that has been open for a couple of decades is closing. I am going to be lucky to get enough to do my living room, and possible curtains for my son and my own room, big curtain projects. I actually saw a leopard print, not the one I have, the one seen here from our last trip to the fabric store.
They have this pattern still, so if I ever want to take a stab a leopard do over on my bedroom at all, like use for bedspread-different than a pieced quilt, which I have one left to finish. In sewing we call those unfinished projects, UFO's. I ended up buying a remnant of this one too, a $10 huge remnant of it, and they have the end of the roll left on it as well, I am trying to use a crystal ball and see what the future of possibly needing this kind of fabric would mean, because I have a window of opportunity here to get it for almost 1/2 of retail.
But for sure I am buying what is left of this one, the microfiber/micro suede in a beige that neutrally matches our current love seats. The yellowish one, that is a 2 yard piece I bought for making hats. I see at least two. One bucket, and one newsboy. I think it will be wonderful to make those projects happen. My son graduated last May and so we have a lot of quality time to spend together now. It delights me that he enjoys sewing with me. I try to teach him about sewing skills that have been years in the making for me, so that in the future, when he has my machines and I'm not here to guide him, maybe just maybe he'll be able to sew and remember the time he and I spent in my sewing studio. What do you think? This one is perfectly matched isn't it? Left to right, guazey sheer fabric for front under curtains, the 2 yards of micro suede that I am going to return for the remaining bolt to make wraps for my two love seats, then there's the yellowish one will be hats and finally 2 yards of black denim for tote bags and other projects.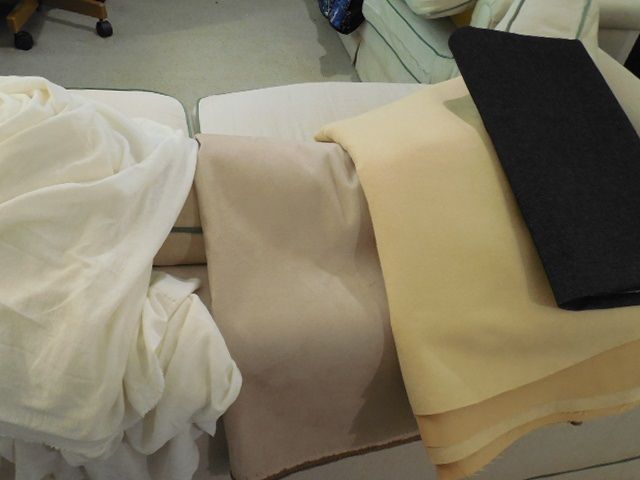 We're going to make some totes this year, muhahaha, totes.
So around this time I was learning the Whitney Sew's free hat pattern. I have always been trying to create the perfect hat. Not quite there, but John's red vinyl one taught me some things.
I am going to cut out two hats from this one, the yellowish micro-suede today. Not sure what John will want to do today, but me? Sewing prep day. I am stuffing up our project box. I am in fact going to do a light tutorial on making a wooden project box, how to make your own personalized walking stick, we have three picked out of all the trees they've taken down. I have a shoe box now, but will make one out of wood soon enough. For now I want to mass cut a ton of these skull caps out, I can't find that jigsaw flannel any longer, but I have one left from it. One sitting in our Reebok shoe box, in a gallon ziplock bag. That is to keep then free from cat hair or dust.
See how I line mine? There are yellow flannel under panels to make you have a smoother cap-no exposed seams. And I think the need longer ties, but we're learning. I am delighted with how well these were received. A family member, my step MIL, had chemo, lost her hair, and I had just been making these. so I made her a couple, and more later, because it was winter, and even in Florida two layers of the light flannelette they sell in Jo Ann's or Walmart is nice. This was Jack's innovation. Because I was simply going to just run with making them single shelled hats. Lining them brought it to a whole new level for me. So I have star wars ones to whip up.
Isn't that black flannel lining sweet? This is a easy project too. I'll be sure to do a tutorial on sewing one for the blog in case you're interested. But for now, I want to make myself a camel looking newboy in faux suede that is fully washable. Thanks for reading. I'll be sure to post more about hats in my own personal quest for 'the perfect hat'.
For your enjoyment I bring you a link, for this skull cap pattern as a single shelled piece: