I wanted to do a small tutorial on the Fun & Done, style of Quilting as You Go (QAYG) and though there are templates available, I did it with my cutting set. A rotary cutter, self-healing mat, and several rulers; these tools I already had from when I did my first two quilts, rag styled. Those were a good introduction to QAYG, because of how I had the sandwiches made and quilted them, adding them to one another, one block at a time. I did two test mini-quilts so build up my confidence sewing in this style, and they became a library book bag.
In traditional style quilting you finish the top, add the layer of batting, and then quilt it all with your backing fabric at the same time. The QAYG style was much easier for me, but I bit off a lot on the second rag quilt. I designed it to be like an 'Around the World' pattern with the different shades of denim against the leopard print flannel. It's just very heavy, too heavy to sleep under, so I moved on to other QAYG projects. The testing blocks I did helped make me feel I could tackle a full quilt, the first one was sad, but the second was good enough I felt I could do it. If I could do it, trust me, with some patience you can too!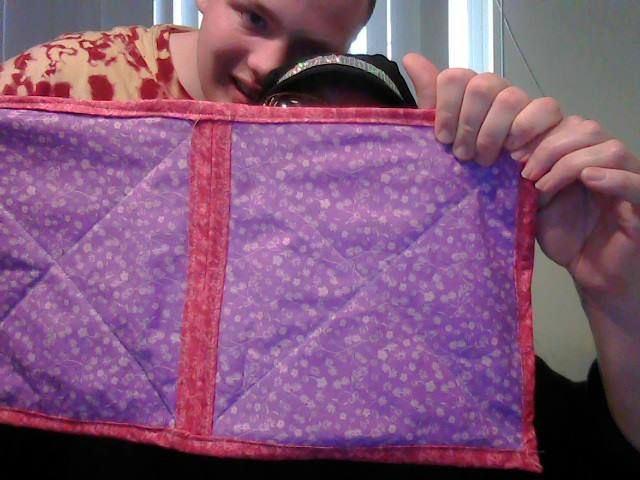 Okay, now let's get to it. First up you have to select at least three fabrics, one for your backing, and two others if you're aiming for a simple block styled quilt. For the front blocks, I used two alternating Star Wars prints on my first Fun & Done, QAYG, and one print and one solid on my second. I stuck with quilting weight cotton and 100% cotton batting, but you can use whatever you want. My current project is a t-shirt Fun & Done, QAYG styled quilt. For both of the first two, I used 10" blocks of batting and top fabric, and then 12" of backing fabric.
Because I quilted them on my new modern Singer HD4423, I used a walking foot (thought I have and use a walking foot for straight stitch only machines on my vintage Singer 201-2) and it kept inhaling or eating the edge of the fabric down into the bobbin area.
From advice I gathered in a couple of sewing facebook groups, I cut up some plain tissue paper I picked up in the Dollar Tree, I cut them up into rectangles and placed a rectangle underneath the backing fabric, and then an inch inward, began my X's for my quilting of my odd looking quilt sandwiches. This kept my fabric from being eaten anymore.
The great thing about the tissue paper is it easily rips out from the stitches and if you're slow and careful you don't harm your stitching.
I used safety pins to pin baste my sandwiches, and just put them over on the sides so I can leave those in while sewing both parts of the X's. You can do whatever works for you on the basting, as well as the quilting part. I did X's because it's what I've done on the previous QAYG projects, and what I am used to. I am not ready to try Full Motion Quilting (FMQ) yet, maybe someday, but not today. I had a helper on this one I am showing being quilted here, so it wasn't perfectly straight:
Once your sandwiches have been quilted, you're ready to attach the blocks to one another. I plan out my projects on paper and I number my rows so I know what ones go where. You can use whatever system works for you, but this is just what works for me. I used taped notebook paper to mock laminate my numbers so I can use them on other quilts. This plan you see below was actually for the Star Wars quilt I started two years ago. The pill bottle was how I stored my numbered safety pins, before I attached them to the quilt blocks that designated the start of a new row.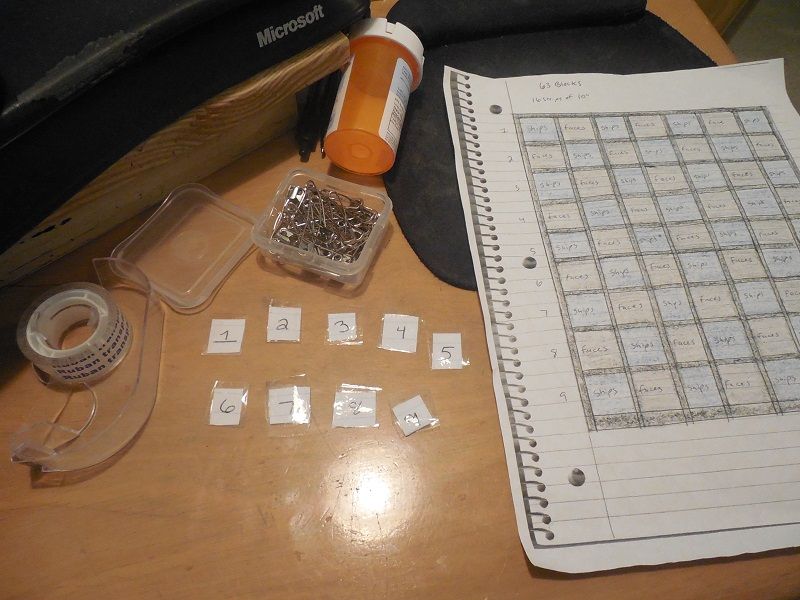 Here you can see the two blocks on the first attaching seam. You sew them with the backing fabric pulled between the right sides of the front fabric of the quilt. It sounds very strange, I know, but it won't be long before you grow accustomed to sewing blocks in the fashion. One thing you need to be aware of, is if your patterns match up before you start sewing. You lay the blocks so the right side of the backing side of the fabrics are touching and the right side of the front of the quilt blocks are facing outward.
Next you press the backing fabric down, I like to starch my fabric when pressing so it's more manageable and holds the folds I put in it better. I just grab a $.97 bottle of starch from Walmart and it seems to do the trick. So you press once, and then fold under and press a second time. Here is the first pressing.
And here is what it looks like under the needle when I am about to start a seam down over the pressed backing fabric, turned under, over-top of the front blocks.
This is all there is to it basically. You just sew them together, press once, twice, pin baste and then sew. One tip is to feel and make sure your layers aren't shifting as you sew. The pins usually prevent this, but I thought I'd mention it. Another tip is when you're trying to pin baste them hold them up to a light source so you can see behind the first block and make sure you've got the pinning of the second block straight. You should be able to see if you hold it up to a light and tell where the batting and top layer of fabric are to match them up.
Here you can see a row set up the same way, you just pull the backing up between the rows, and then sew it with the rows on top of one another like this looks like in the photo below the first one.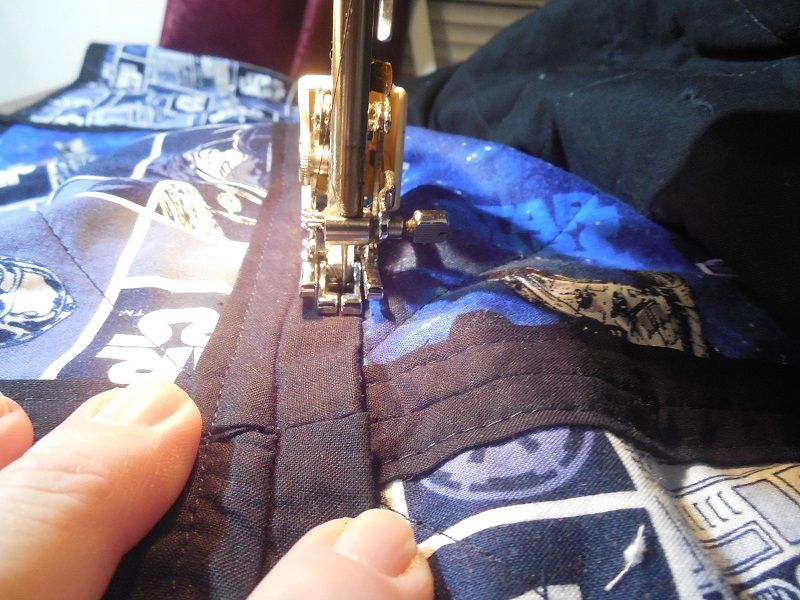 This is what it looks like before I pinned down the two sides of the backing fabric and sewed them down. This is after pressing down the backing fabric folded under by 1/2".
The way I do the corners is to fold the point in until it meets the corner of the top block's batting, and then roll the sides of the backing fabric down and finger press them before I press with the iron.
I pin baste the edges just like I did the sashing (back fabric that was pulled up between the blocks) of the rest of the quilt. Then I ran one seam around the outer edge and it was done.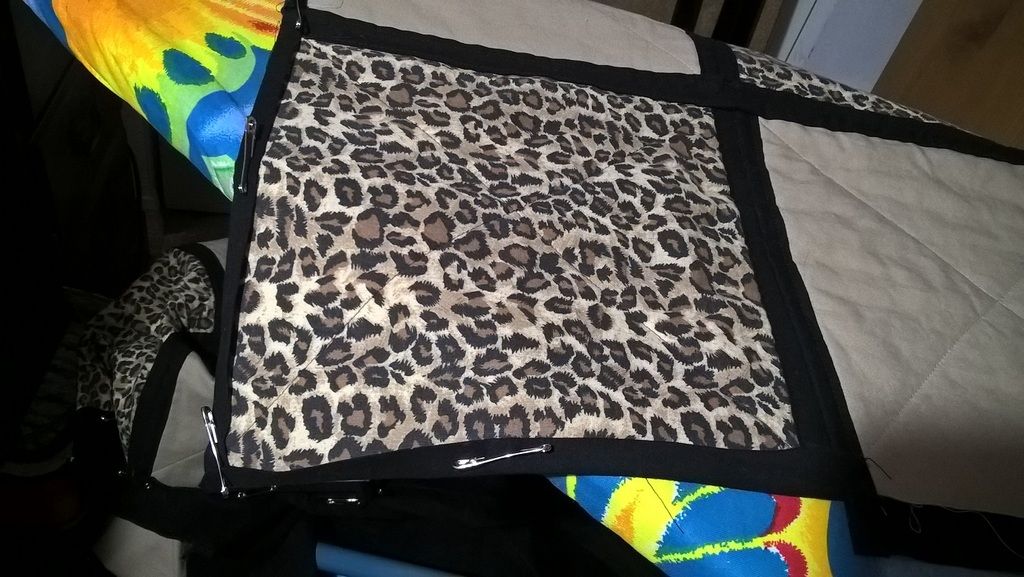 Here is the finished second 10" block
Fun & Done, QAYG
styled quilt I made last year.
I hope you found this tutorial useful and that you will give this type of quilting a try, I am by no means a master quilter, I refer to them as quilts, but I haven't done piecing or anything sophisticated yet. Maybe someday, but for now I let the pattern of the block fabrics speak for me. One video I will link here is Rose Smith's useful video for Fun & Done, QAYG, it was the one that light up my mental light bulb and made it all come together and make sense.
The best advice I can offer is to be as accurate as possible in your measurements and you'll get better results. Make a test pair of blocks so you can see how easy it is for yourself, make them whatever sizes you like, but I went by having 2" larger backing blocks so I would end up with 1" sashings, and a 1/2" self-binding.
Thank you for coming by and for checking out my blog.